Four Benefits of Hiring a Qualified Roofing Contractor
Jan 19, 2019
Roofs play an essential role in safeguarding your property against damage; however, because roofs can be of different shapes, sizes and materials; it takes a professional to decide on the roofing repairs and maintenance that best suits your home. 
Melbourne Quality Roofing experts have extensive experience of over 25 years in the roofing industry and are capable of addressing all of your roofing needs. We carry a reputation for high-quality roofing contractors based in Melbourne. We have delivered numerous successful roof restorations for Melbourne homeowners.  
How do I choose a roofing contractor?
As discussed above, roofs play a vital role in protecting the structure of your home; thus, it becomes imperative that you compare options before hiring a roofing contractor in Melbourne for your roofing needs
It is best to opt for local roofers as they know the local weather conditions and other external elements that will affect your roof. Local roofers will address your concerns and suggest roof restoration in Melbourne that suits the area and its climate. Additionally, they are located in the nearby vicinity, making them more available in times of urgency
It is advisable to check reviews and ratings of the roofing contractors in Melbourne that you are looking to hire. Reviews and ratings are easily accessible online, clearing your doubts about the kind of services they provide. 
In the absence of reviews and ratings, ask the roofers to provide you with references of their past clients
In Australia, accreditation is with the HIA (the Housing Industry of Australia). The function of being associated with this accreditation is not to use a fancy logo or have a big name but instead signifies that industry-best tools and techniques are being put to use. 
Association with such institutions requires the organisation to follow industry-standard safety procedures, ensuring high-quality roof restoration in Melbourne. 


What are the benefits of hiring professional roofing contractors?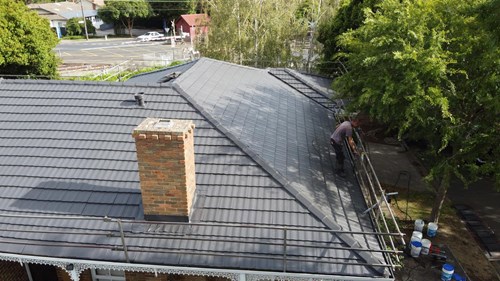 Hiring professional roofers for your roofing solutions has its own benefits. Some of them include:
Professional roofers, like those associated with Melbourne Quality Roofing, possess the relevant expertise along with 25 years of experience. We excel in providing quality roofing solutions that match the needs of homeowners in Melbourne and the surrounding areas
Professional roofers will use only quality roofing materials for roof restoration in Melbourne and within the surrounding areas. These materials will enhance the lifespan of your roof
Regular roof maintenance can indeed improve the lifespan of your roof; however, it is best to let an expert handle your roof and its issues. Inexperienced roofing contractors may further damage your roof, which may cost you a lot more and can often lead to needing a complete roof replacement.
While undertaking roofing works, a great deal of material and services are being utilised. With this in mind, there are chances of things going wrong, causing you further out-of-pocket costs. It is advisable to collect tax invoices for the materials and services utilised in the roof repairs, to provide yourself with a warranty. Knowing these warranties are in place, you can then relax
Hiring experienced roofing contractors for your roof restoration services in Melbourne and the surrounding areas is advisable. Inexperienced and incapable roofers may further worsen the state of your roof. Qualified roofing contractors will improve the lifespan of your roof by utilising quality roofing materials with industry-standard tools and techniques.