How Much Does a Roof Restoration Cost?
Feb 23, 2021
The roof of a home is the cover to keep the home's inner living space sheltered against weather conditions. You expect protection from the outside elements that threaten to damage and devalue your property. 
When you're building a new home or replacing your old roof, there are many factors and considerations to think about. Melbourne Quality Roofing contractors in Melbourne are there to design, fabricate and maintain or repair your roof correctly. 
What is Roof Restoration?
The process of roof restoration in Melbourne typically involves roof cleaning, repairing, rebedding and repointing. There are numerous reasons to have a roof restoration conducted on your house, the most common of which is because the damage has been caused to the roof by weather or ageing. The major benefit of it is it ensures the extension of the roof's life. 
The roof restoration process involves repairing or replacing the roofing materials while leaving the former framework, which could include the rafters, joists and support beams, in place.
What are the factors that influence the Roof Restoration Cost?
There are various factors that come to play when you consider roof restoration costs. The important factors that determine the cost are the size of the roof, materials, and labour costs with regards to any job or service. Apart from these, some extra factors need consideration while calculating the cost of roof restoration in Melbourne.
Even if you have a simple design, your roof's shape can significantly impact the price. Designing a straightforward, simple roof that doesn't require a lot of time and materials will prevent you from paying unnecessary expenses. 
Just like the styles and materials are different, the problems are different, too. Melbourne Quality Roofing experts can handle all roofing styles, including terracotta, metal, cement and tile. We make it a point to provide prompt service and go out of our way to ensure precise roofing solutions.
It is important to get a quote from every roofing contractor in Melbourne, which you're considering to hire for your roofing project. It will help you to assess value and quality more efficiently.
It would also help if you asked for written quotes on the works to be undertaken and the respective prices for the same. If you are looking to hire labourers on an hourly basis, make sure you estimate the number of hours required to complete the work and the rate per hour. 
There may be things that you want to get done, but not included in the quote. For this, you will need to decide if those extras are worth more money and time.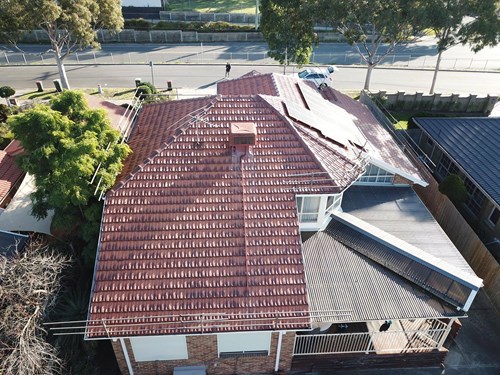 Talk to Melbourne Quality Roofing professionals for booking an obligation-free inspection of your roof. A roof is an enhancement to any property, and thus, it requires attention. Our experts can enhance the aesthetic appeal and market value of your home.
Apart from the roofing material, style and labour costs, some of the other common factors that affect roof restoration in Melbourne costs include: 
The steepness of the roof
Amount of repairs required
Type of coating to be done over the roof
Accessibility of the roof
At Melbourne Quality Roofing, we are committed to delivering our customers with a remarkable looking and functioning roof. Our roofing contractors in Melbourne go to a great extent to ensure your roof is in its best shape. With an expert and experienced team, we pride ourselves on providing personalized service at an affordable price.