How Summer Heat Affects Your Roof
Apr 12, 2020
Australia experiences a very warm summer, which at times can be unbearable. January of this year was no exception, recording temperatures of 49.5°C.
As a roof is at the forefront of a home, they tolerate most of the heat. Roofs are supposed to keep you comfortable throughout the year, but it cannot fight the weather extremities if not maintained and can succumb to damage. It can be surprising for most people to learn that extreme heat can raise concerns with a roof. 
Melbourne Quality Roofing roof restoration experts have jotted down some vital information on how heat affects a roof.
Are you Wondering How It is that Heat Damages a Roof?
Let us start with understanding the causes of extreme heat on the roof. The heat itself may cause a lot of damage to the roofing materials. With a rise in the temperature, roofing materials tend to expand, causing cracks and brittleness here and there. The ultraviolet radiations that constantly bombard the roof, eventually break it down bit by bit, making it porous and weak. There is less of a chance that people notice the deterioration during summer, however, with the arrival of rains, the roof can start to leak. 
If your roof is painted with a dark colour, the temperatures within may soar higher than it is outside. If the outside temperatures are 90°F, it can feel like 150°F on the inside. These high temperatures accelerate the chemical process, causing roofing materials to wear down faster.
How to Prevent Roof Damage Caused by Heat
Now that we know for certain that heat can damage the roofing materials, we should take certain steps to prevent it. 
The colour of the roof affects the temperatures within the attic of a roof. A general study indicates that the plywood under a dark roof with direct sunlight is 10-15°F hotter than one with a lighter coloured roof. This is because dark colours absorb heat, trap it and allow it to flow into your attics. On the other hand, lighter colours are more reflective and cause the heat rays to bounce back off, meaning that it absorbs less, or holds less heat. 
If you are planning to change the colour of your roof, who better to do it for you than Melbourne Quality Roofing experts? They implement industry-standard procedures, follow safety standards and use high-quality materials for your roof. If you're considering getting your roofs repainted, call us on 0466 885 133.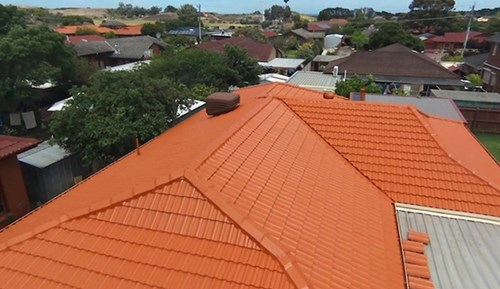 The material of your roof has a significant impact on the amount of heat absorbed in your home. Contrary to the popular belief, metal roofs are highly reflective. They reflect the majority of the incoming heat, which keeps the attic at a moderate temperature throughout the year. On the other hand, an asphalt roof reflects very little heat.
These two materials are the most common roofing options, but tile and concrete flat roofs have different heat absorption rates and reflection properties again.
Roof and Attic Construction 
Irrespective of the roofing material you utilise for your roof, the construction and attic both play a significant role in levels of heat. It is advisable to have proper roof ventilation to keep your home stay comfortable during summer. A well-built home will have an attic that ensures excess heat escapes. 
If you don't have a good attic and require roof restoration, contact our expert roofers.
How to Repair Roof Damage Caused by Heat
Despite preventive measures, your roof is eventually going to be damaged. It's best to fix the issues before it's too late. 
Contact Melbourne Quality Roofing experts to handle all of your roofing concerns. With decades of service under their belt, our roofers never fail to deliver quality roofing services. Our experienced and highly trained roofers inspect your roof for damages and suggest repairs to retain it in the best possible conditions for years to come. 
Call us on 0466 885 133 for an obligation-free quote, post-inspection. You can also write to us at [email protected].